106 Bowen Road, Townsville
Reception Hours
Mon to Fri – 7.30am to 9pm
Saturday – 8am to 8.30pm
Sunday – 8.30am to 7.30pm 
Twin Room
Non-Smoking
Air-conditioning
Television
Microwave
Tea/Coffee Making
Bar Fridge
En-Suite Bathroom
Single Bed
Linen and Towels Provided
Wireless Internet
Toaster
Queen bed
Free Laundry Facilities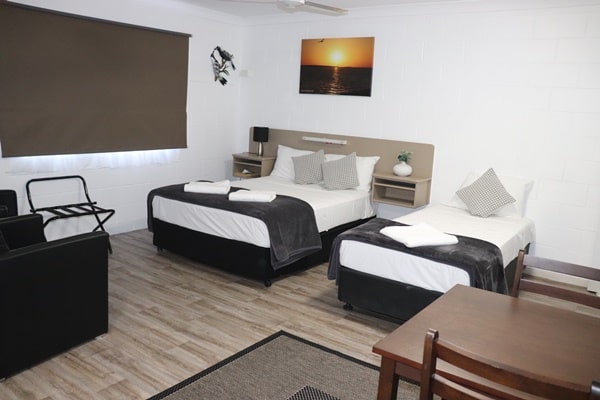 Self Contained Twin Room
Non-Smoking
Fully Equipped Kitchenette
Tea/Coffee Making
Toaster
Microwave
Fridge – Bar Fridge
Double Bed
1 Single Bed
En-Suite Bathroom
Linen and Towels Provided
Wireless Internet
Air-conditioning
Television
Free Laundry Facilities
Family 5
Up to 5 people
Non-Smoking
Air-conditioning
Television
Microwave
2 Double Beds
En-Suite Bathroom
Tea/Coffee Making
Toaster
Wireless Internet
Single Bed
Fridge – Bar Fridge
Free Laundry Facilities
Linen and Towels Provided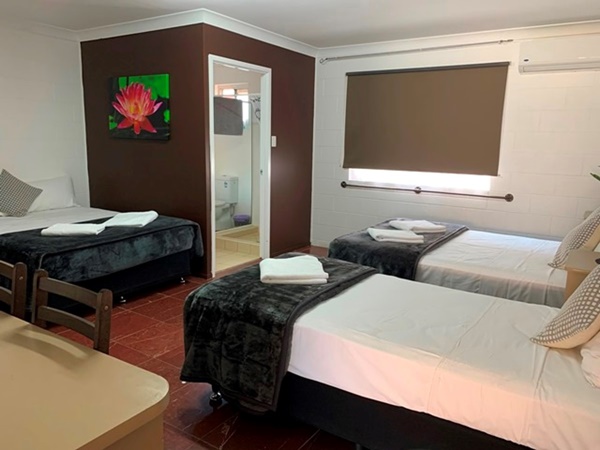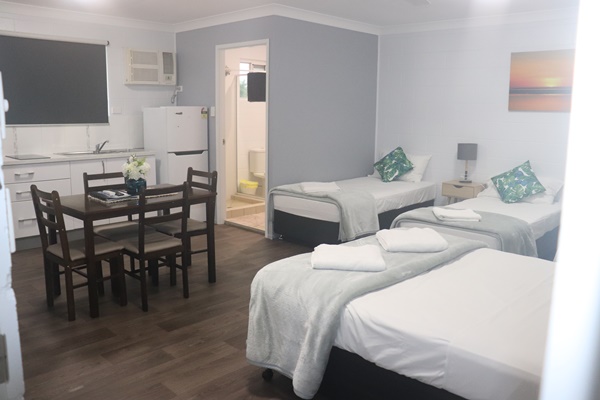 Family 5 Self Contained
Double Bed
Single Bed
Free Laundry Facilities
Fully Equipped Kitchenette
Toaster
Microwave
Fridge
Cook Top
Television
Linen and Towels Provided
Wireless Internet
Air-conditioning
Tea/Coffee Making
Pet Friendly Family
Queen bed
Single Bed
Linen and Towels Provided
Cots Available
En-Suite Bathroom
Fridge – Bar Fridge
Tea/Coffee Making
Wireless Internet
Microwave
Non-Smoking
Air conditioned
Television
Free Laundry Facilities
Toaster
Double Bed
Shower – separate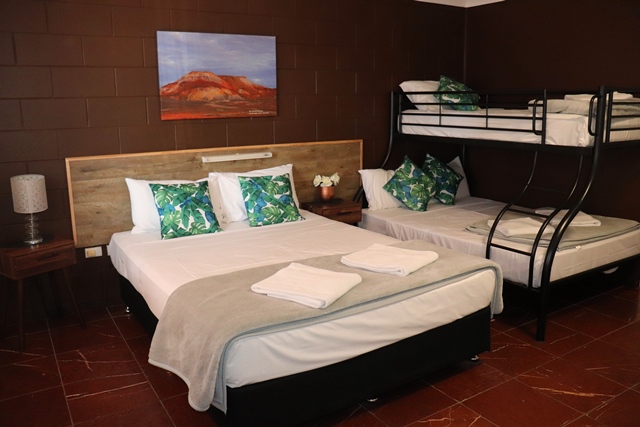 Conditions
Parking spaces are allocated per room. If you have more than one car or a trailer, please advise reception. Visitors must park on the street.
Pet Friendly conditions are as follows:
All packages left by pets will be picked up and put in the bin provided, no exceptions. (standard public rules apply), waste bags provided.
Pets are not permitted on beds.
Pets are not to be left unsupervised in the pet run or rooms at all, no exceptions.
Pets must be on a leash when not in room or pet run.
Pet beds available upon request. Request must be made at time of booking.
Please Note: should you allow your pet to urinate or defecate in the room a special cleaning charge will incur a $200 cleaning fee.
The owner certifies that he or she is the sole owner of the pet or pets and is solely responsible for any and all acts of behaviour of the pet/pet's whilst staying at the motel. Any damage or injuries caused by such pets will be the sole liability of the said owner.
Visit Townsville
We Have A Vacancy
106 Bowen Road, Townsville